Delos Island – A history-drenched & powerful spiritual centre of the ancient world!
May 04th, 2021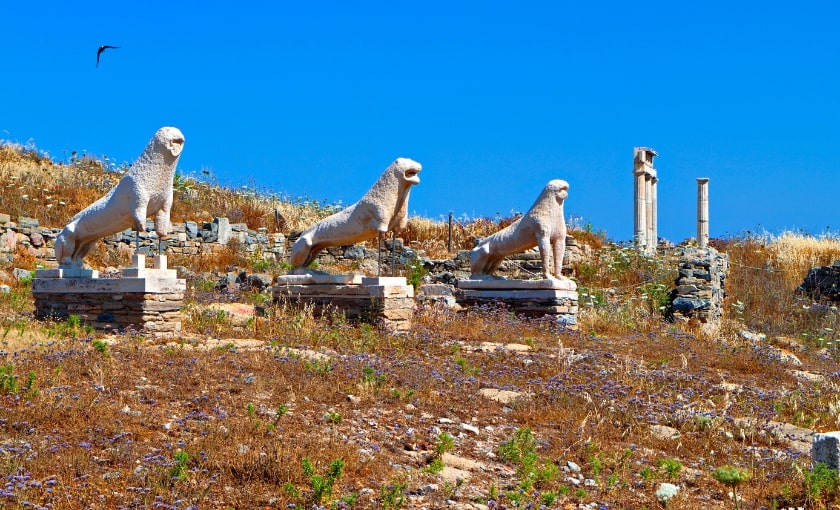 You don't need to be a history buff to appreciate an island like Delos. Infused with sites of particular religious and historical interest and surrounded by an incredibly powerful spiritual energy, Delos island is definitely a much-see when visiting Mykonos. For many visitors, Delos is love at first sight. Here are some facts about this Mykonos cousin that may as well justify this strong attachment to it.
A cradle of culture and spiritualism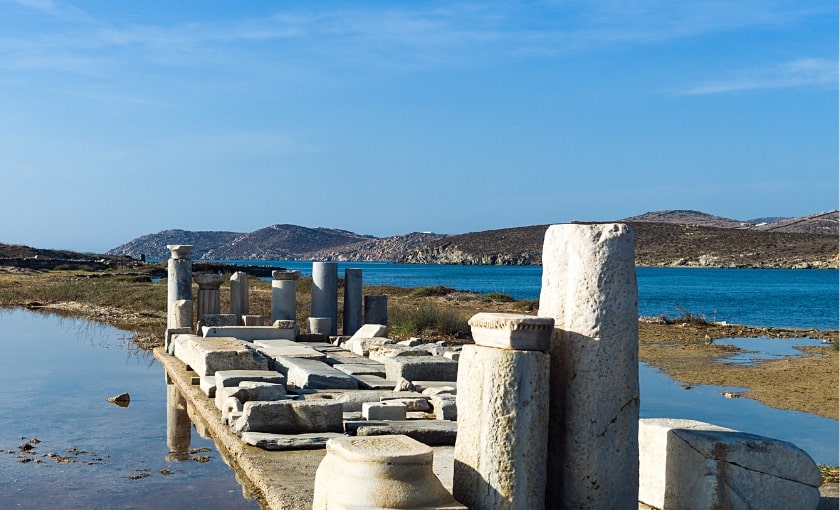 Delos island floats lazily a few miles from its cosmopolitan sibling, Mykonos, and is believed to be the birthplace of Apollo, god of light (among others) and Artemis, goddess of the hunt, wild animals, childbirth, and vegetation. The birth of the twins instantly turned Delos into an immortals' island; hence, sacred. For that reason, no mortal was allowed to be born (or die) on Delos.
That ruling came out around the 6th century BC when tyrant Pesistratus decided to cleanse Delos island so that it is fit for the worship of the gods. At that time, all the graves at Delos were removed, and found a new home to nearby Rhenia island. The Delphic Oracle completed the purification of the island a century later, with the last step involving the uprooting of the 30,000 Delos inhabitants. They were sent to find a new homeland anywhere else but Delos.
From that moment on, Delos island became the home of sacred ceremonies, religious practices, and initiations that were part of the infamous Delos Mysteries. This is how Delos took its reputation as a conspicuous spiritual centre of the ancient world.
At the same time, though, the strategic geographical position of Delos island contributed to it becoming a thriving commercial port as well. It is estimated that the Delos port was a stop for around 750,000 tons of merchandise annually during the 1st century BC.
A UNESCO World Heritage Site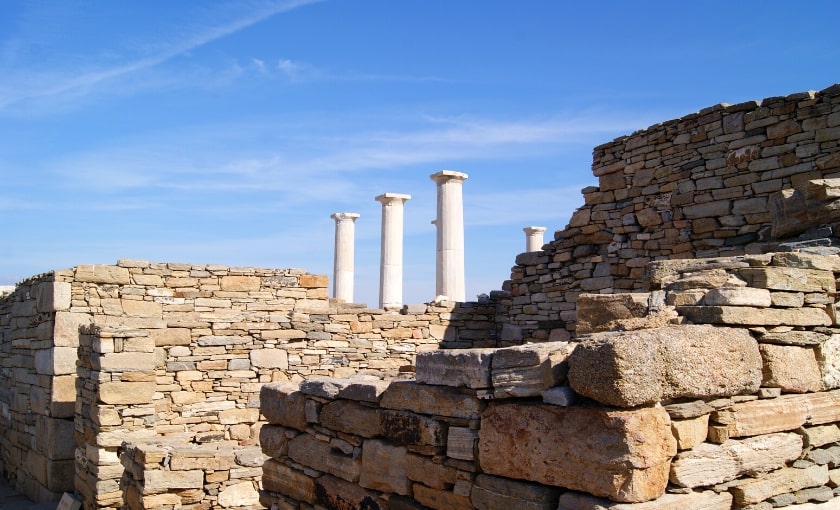 Declared a UNESCO World Heritage Site in 1990, Delos is rightfully included among the best Mykonos attractions. Part of the island's uniqueness is the number of monumental antiquities found from excavations dating back to the Hellenistic, Classical, and Archaic periods. These were the eras that are claimed to have produced the greatest Greek art. The fact that Delos island has been uninhabited since its last purification process in the 7th century BC has allowed the archaeological site to maintain its integrity through the years. This means that any restoration works that took place on the buildings were done with an extreme focus on keeping the authenticity of the site.
Visiting Delos is, indeed, one of the top things to do in Mykonos, even if you are not particularly fond of archaeological sites. Many tourists visit the island to feel the unique vibrations here and meditate, do yoga, and other spiritual practices. Besides, the seascapes are also absolutely gorgeous, including the sunsets!
What to do and see in Delos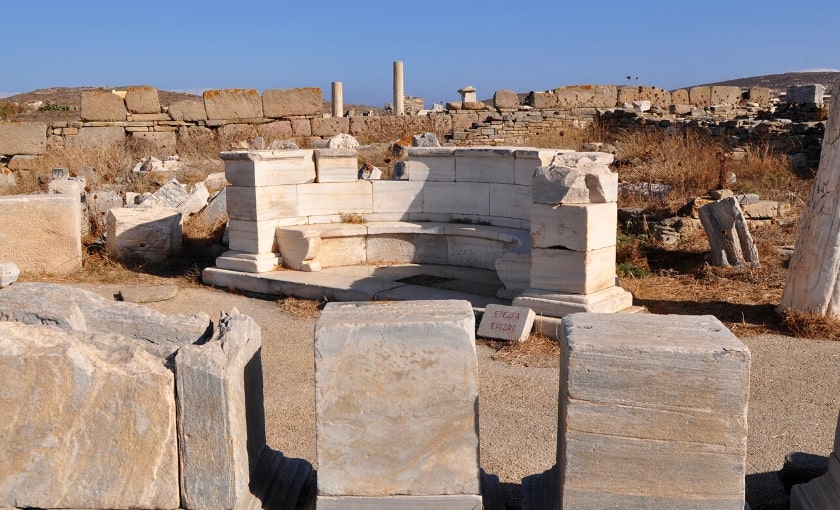 The remains of the Temple of the Delians constructed to honour Olympian god Apollo and goddess Artemis welcomes you when you step foot on the island. You will also have the chance to lay eyes on the remains of a once gigantic statue of Apollo from the 6th century. Also, visiting the Sacred Lake and the Sacred Minoan Fountain (a holy spring) impress. The same applies to the Terrace of the Lions, which is probably the main attraction. Hordes of tourists from Mykonos Town and all around Mykonos come here just to see the infamous lions that guarded the Sacred Way. Made from the best Cyclades marble, the 9-12 imposing lions look very much like the Egyptian Sphinxes.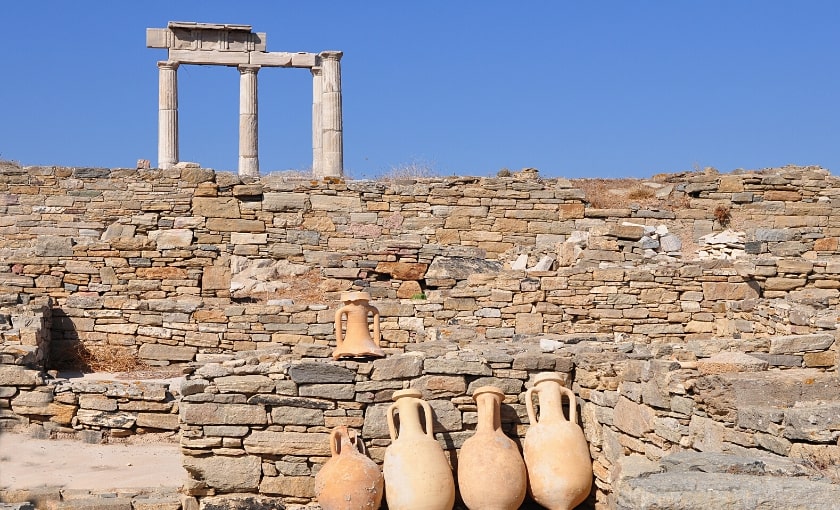 Finally, the temples of Isis and Hera dazzle with their beautiful Doric architecture. Although they differ quite a lot from the whitewashed Mykonos churches, they amaze with their ancient Greek style and the profound views of the cobalt Aegean Sea.
It should also be noted that several Mykonos day trips to Delos include visits to the enchanting House of Dionysus with the captivating mosaic floor and the House of Dolphins that catches visitors' attention with mosaics depicting God Eros riding dolphins!
Where to stay in Mykonos for easy access to Delos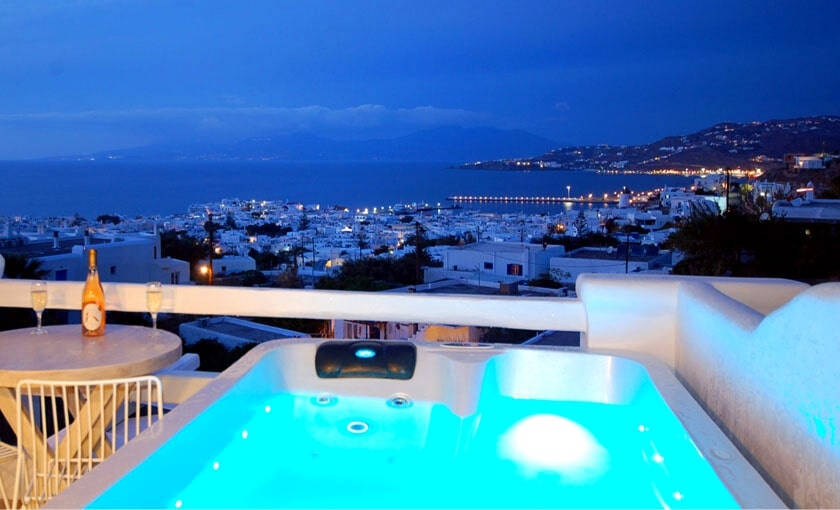 Fortunately, there are plenty of places to stay in Mykonos, depending on your budget and other requirements. So, you will find everything from luxury resorts and 5* hotels to exclusive villas and more affordable studios and bed and breakfasts. You simply need to choose something close to the island capital as most tours to Delos start from there.
Now, if you are after a centrally located 3-key Category room with exquisite views of the sea and exceptional services, then Regal View is a supreme Mykonos accommodation option. Amenities like an outdoor jacuzzi, private bathroom, free 2-way transfer from Mykonos airport and port, and a private veranda are not desiderata but granted. Indeed, Regal View is one of the few Mykonos Town hotels that take guest satisfaction seriously. For that reason, don't hesitate to ask for our assistance if you want information about a tour to Delos or other details.
How to get to Delos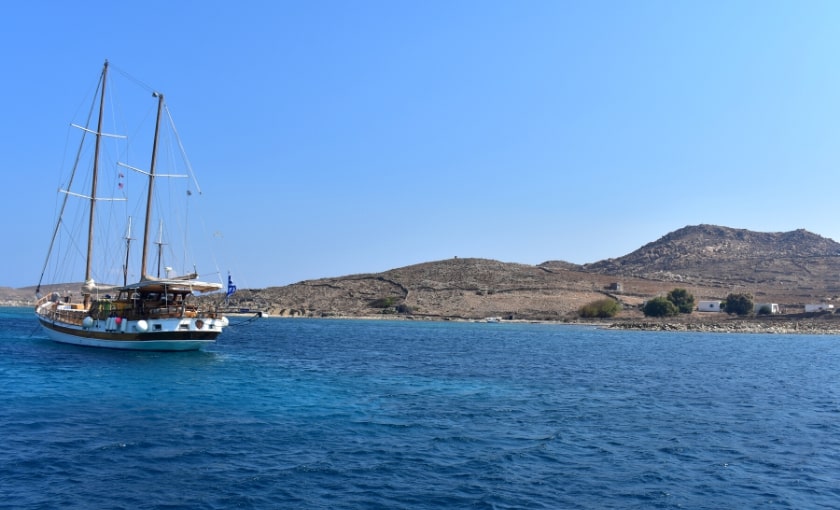 Most tours to Delos start from Mykonos Little Venice or the Mykonos Town port. So, you could join one of the offered tours, and you will all be collected from either meeting point. However, if you wish for more privacy and options that don't involve a lot of people, you could opt for a private tour.
Private tours to Delos could be arranged in various ways. For instance, private helicopter rides are available that will take you directly to Delos within minutes. That way, you also get to admire the magnificence of the Mediterranean from the sky!
Another option is to have a private cruise or sail there with your own yacht if you have one. Once again, Regal View can help you make the needed arrangements so you can enjoy a fantastic Delos tour. We have not made it to the top of the best-rated Mykonos hotels in town for no good reason!