Mykonos Town – Fulfilling every holidaymaker's dream
Dec 20th, 2019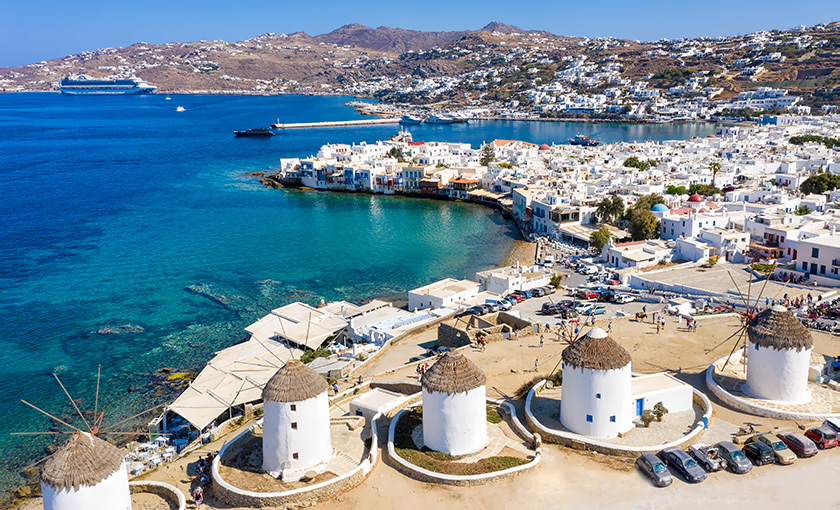 Once filled with castles to help protect the island from thieves and pirates, Mykonos has gone a long way and is now a party mecca and one of the most cosmopolitan spots in the Mediterranean Sea (and not only). Without ever losing its identity and unique character, though, it instils a sense of freedom and composure while also giving visitors a taste of the profound Cycladic allure. Its beating heart, Mykonos Town, is the place the majority of the celebs, A-lists, and jet setters choose to spend their holidays in. Rightfully so. It combines scenic landscapes that caress the senses and the most vibrant nightlife one can ask for.
The Architecture – A sample of old-world charm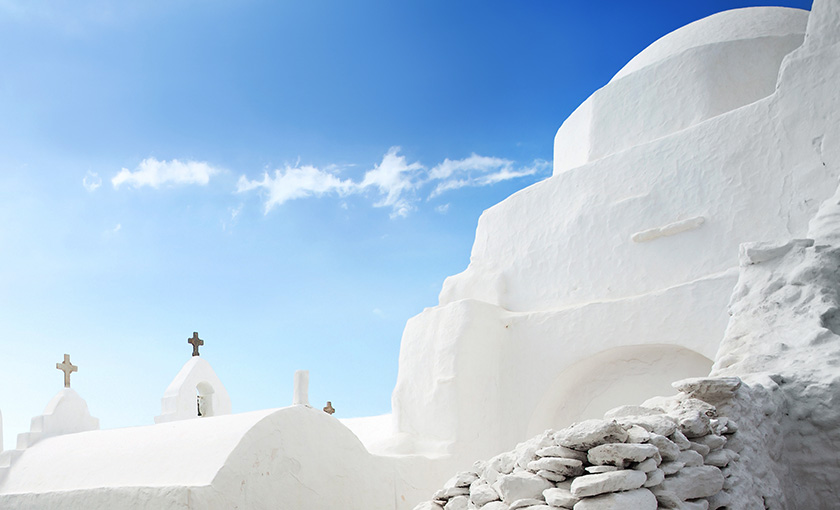 Also referred to as Chora, Mykonos, Mykonos Town dazzles with the beautiful cubic-shaped constructions – strategically designed to help protect from the melting heat and the strong Meltemi winds. The houses, chapels, and churches are all painted white and feature brightly coloured details (i.e., shutters or domes), mostly blue but also red and green. Loyal to traditional Cycladic architecture, everything is a reminder of an era where a house big enough to fit in was all people wanted. Simplicity and moderation are both evident throughout the island, impressing even those in the know with how much aware of the concept of space the old villagers really were!
Most Iconic Sights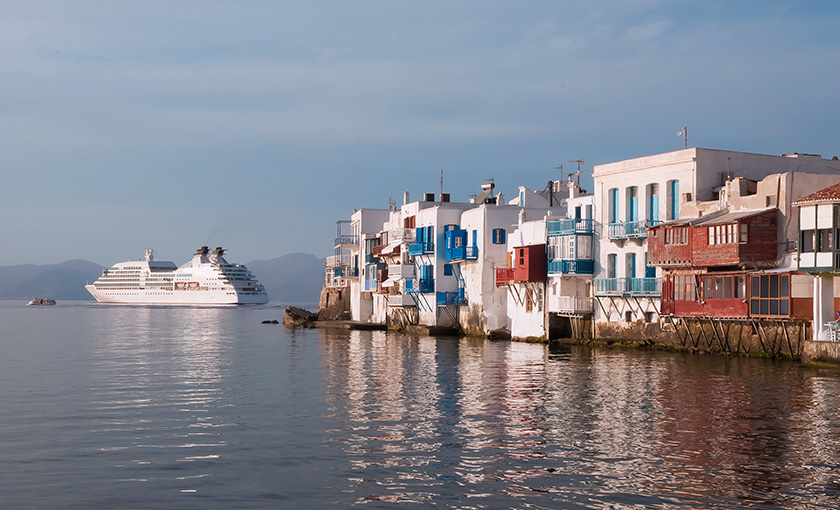 Strolling the narrow, cobbled streets of Mykonos Town will get you past lovely shaded little patios, winepresses, water cisterns, houses with bougainvillea-filled balconies, quaint cafes, family-run tavernas serving delicious seafood and local flavours, blue-domed churches with whitewashed walls, designer shops, and more. All the roads, though, lead to the bustling harbour and the picturesque Little Venice – probably the most romantic neighbourhood in Mykonos Town to be in. With colourful, picture-perfect buildings and bars literally hanging over the seafront and some of the most heart-warming sunset views to be seen on the island, it is definitely a must-visit when in Chora, Mykonos. And, while there, do not forget to take a moment to lay eyes on the imposing windmills and the Armenistis Lighthouse as well! Other Mykonos attractions not to be missed are the 18th-century church of Panagia Paraportiani, Archaeological Museum, Gizi Castle, and the emblematic Paleokastro Monastery. And, if you are willing to get on a yacht and sail the glistering waters of the Aegean Sea, then the mystical island of Delos is a stop worth making.
The Shores – Something for every taste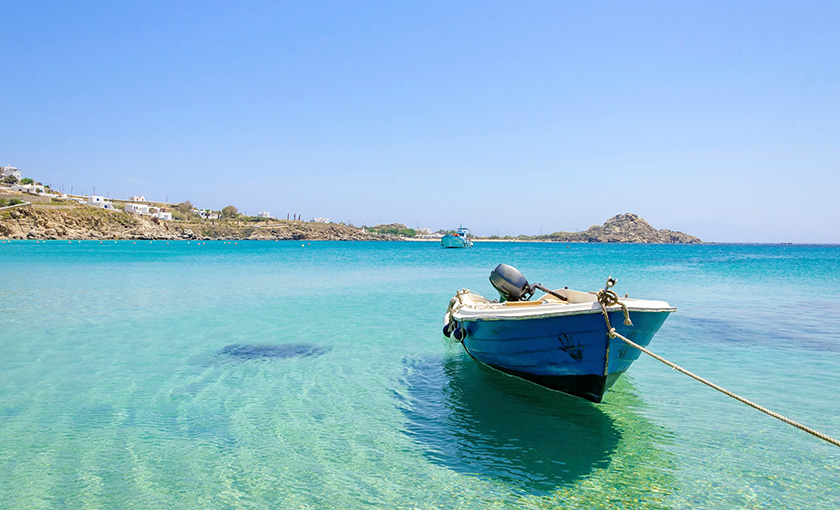 Mykonos Town is ideally located to provide access to all the popular beaches in Mykonos. From the twin party shores (see Paradise and Super Paradise) and family-oriented Ornos to the more secluded and private Agios Ioannis and Agios Stefanos beaches and the hypnotising Platis Gialos beach that occupies a spot in a lovely half-moon shaped bay, you will be spoilt for choice. Without a doubt, Chora, Mykonos provides proximity to a sandy shore that fits your bill perfectly; whatever it is that you may be looking for.
Hedonistic Nightlife
Mykonos island Greece, is world-renowned for its vivid party scene and the crazy happenings that take place here throughout the summertime. The beaches get swarmed with people looking for fun that combines different forms of entertainment. Mykonos Town is once again the epicentre of all this fascinating action, with options ranging from bars and clubs to Michelin-star restaurants, private parties, and VIP events. Also famous for its glam gay community, the island capital indeed offers a slice of heaven for the discerning traveller.
Accommodation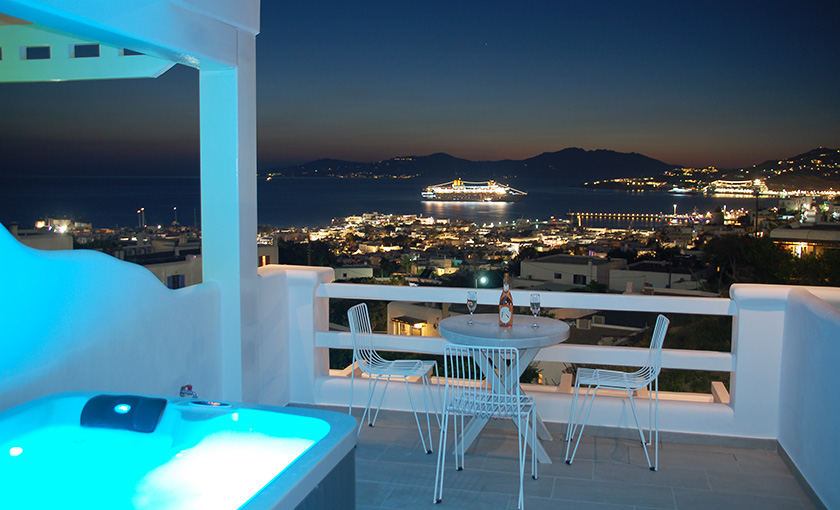 The centre of Chora Mykonos houses one of the most beautiful and guest-centric Mykonos Town hotels – Regal View Rooms. Here, you can find magnificent sea views and authentic experiences under the same roof. Offering well-appointed, fully renovated rooms featuring elements from the traditional Cycladic architecture, guests can now enjoy things like spellbinding views of the shimmering Aegean Sea from their private balcony.
For those seeking the refinement of world-class Mykonos accommodation and service, alongside the epitome of Cycladic bliss, Regal View Rooms is indeed the ultimate destination. Expect spacious lodgings that have been specifically designed to meet the requirements of families, groups of friends, and couples alike – infused with the warmth of Greek hospitality.
Have a special request, such as a private helicopter ride or a cruise trip? Just ask the friendly receptionists and let them arrange everything for you down to the last detail. We are not the best of Mykonos hotels in town among guests seeking splendour, grandeur, and top services for no reason!