Must-Visit Beaches in Mykonos Greece for Relaxation, Isolation, or Beach Bar Fun!
Nov 28th, 2019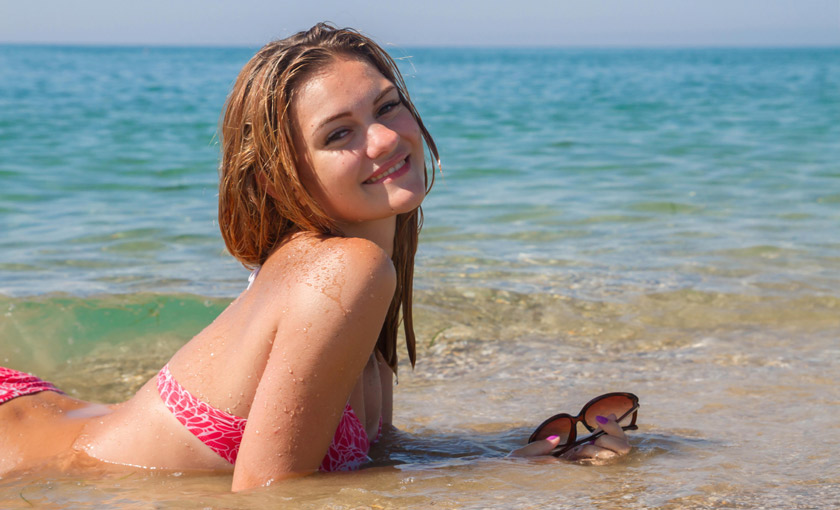 Besides fabled parties and a vibrant night scene, Mykonos is also worth visiting for its fantastic beaches. This third part of the best beaches in Mykonos, Greece guide will give you the remaining seven shores that deserve a place in everybody's must-visit list.
1. Mersini (or Myrsini) Beach
Situated near Fokos beach, Mersini or Myrsini is one of the best beaches in Mykonos, Greece, if you after serene and tranquil moments by the sea. Occupying a part in the northeast side of the island, it is around 13km from Mykonos Town and will steal your heart with its sandy shore (not organised), crystal clear waters, and the beautiful, natural landscape.
2. Agios Sostis Beach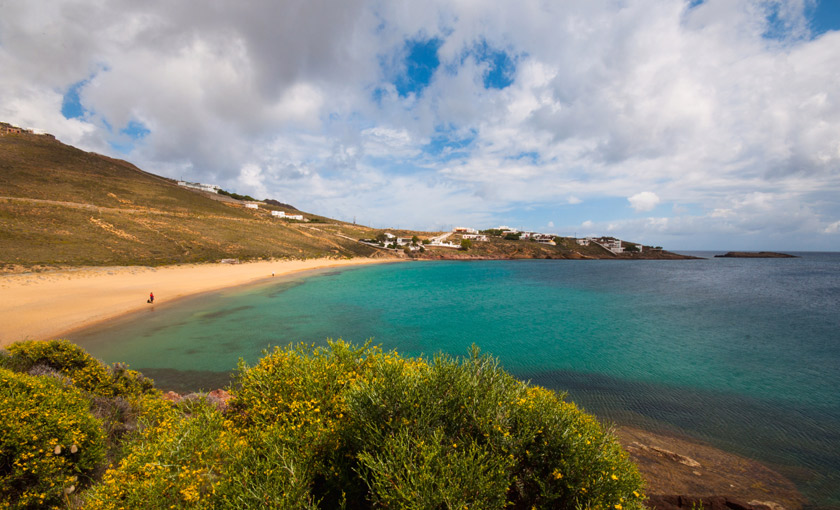 Among the quietest beaches in Mykonos, Greece, and a bit further from the more popular (and crowded) beaches of the southern side. You won't find any amenities here, but you can expect a unique sense of freedom and lots of unspoiled natural charms around. It is a sandy beach that requires a car or motorbike to access it, as there is no bus connection available. Not far off is the lovely Panormos village and the picturesque homonymous beach.
3. Panormos Beach
The recently introduced bus service that connects Panormos beach with the Mykonos capital has put Panormos beach on the map. Previously accessed via car and only by a handful of tourists that wanted some privacy, it is now one of the most favoured Mykonos beaches. What is particularly interesting about this beach is the fact that it is actually divided into two shores – one organised and filled with sunbeds, umbrellas and some great Mykonos beach bars (excellent for families with children) and one frequented by nudists. The shore is sandy and the sea crystalline and refreshing.
4. Ftelia Beach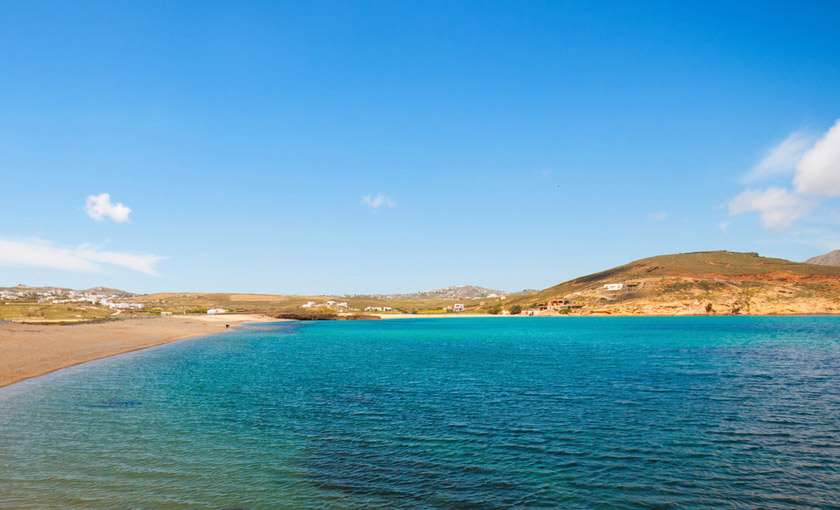 A superb option for windsurfing enthusiasts and a very tranquil spot just 7km from the beating heart of the island and some of the most luxurious Mykonos Town hotels such as Regal View Rooms, which accommodates the majority of guests to Mykonos island. No public transport is available so it can be reached by taxi, car or motorbike.
You won't be able to enjoy sunbathing or swimming due to the strong northern winds that blow here, but you will definitely be able to ride some good waves! If you fancy a more rugged environment compared to the softer options of the southern coast, then this is a superb shore to visit. Ftelia also facilitates some of the best beach bars in Mykonos.
5. Houlakia (or Choulakia) Beach
A distinguishing feature of this beach is the pebble stones. Houlakia is also divided into two parts, with one side featuring large pebbles and the other a charming cove and a small stretch of sand. It is some 4km north of the Chora and Regal View Rooms – one of the most elegant hotels in Mykonos Town - and comprises one of the most sought-after beaches in Mykonos, Greece, among those seeking exceptional sunset views. It is not recommended for swimming, though, as it is a protected area unless you head to the small cove mentioned before.
6. Agios Stefanos Beach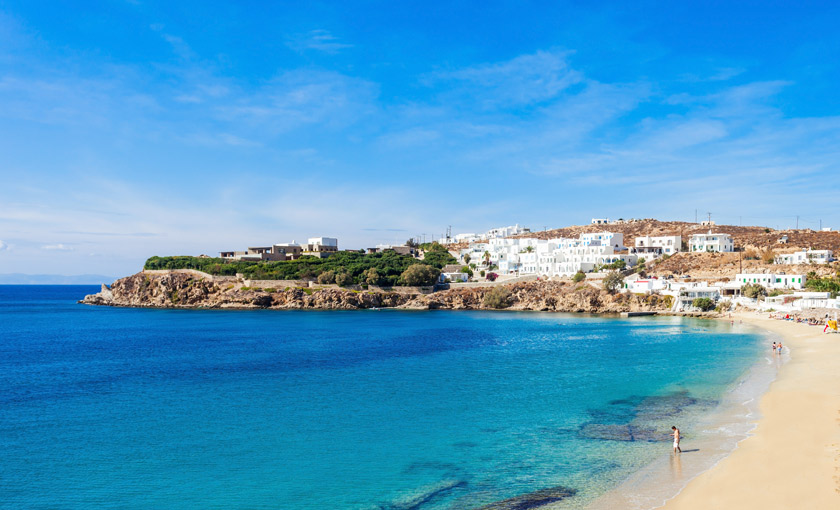 It is probably the closest to the capital of all beaches in Mykonos, Greece. It provides several different water sports facilities, along with varying Mykonos accommodation options. Agios Stefanos beach is protected from the strong winds and gathers quite a crowd, especially during the hot summer months. You won't find things like loud Mykonos beach bars at Agios Stefanos, but you will certainly have the chance to taste great traditional Greek cuisine at family-run tavernas located here.
7. Elia Beach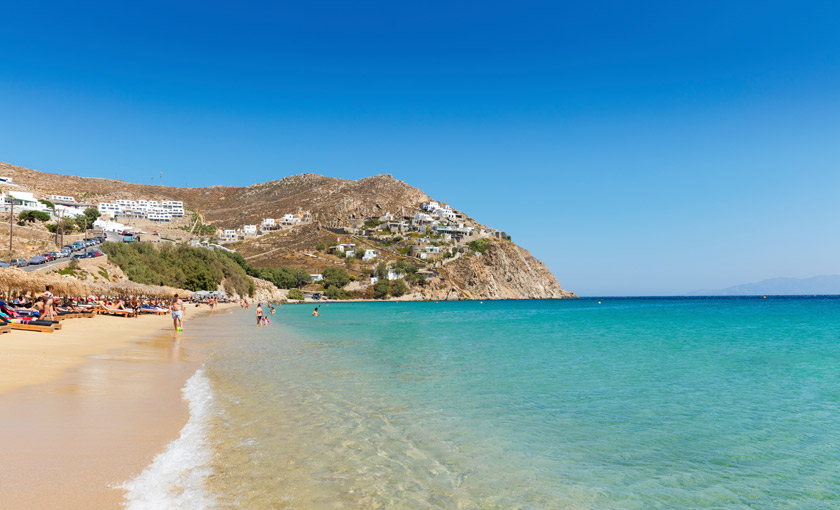 In a chain of beaches on the southern coast, Elia is the largest beach indeed. There is frequent bus service from the Old Port bus station (the Chora) while you may also reach the shore by motorbike, water taxi (from Platis Gialos), or car. Elia is a particularly gay-friendly beach, with fine sand and cobalt waters. Although significantly less packed than Super Paradise and Paradise beaches (legendary for their Mykonos beach bars and parties), Elia still gathers a lot of attention from jetsetters, A-lists, and partygoers alike. Being much larger than its other siblings, Elia is organised with waterbeds, sun beds, umbrellas, and things like jet-skis and skis. The gay section is situated on the far end of the beach. Definitely one of the best beaches in Mykonos with a mixed crowd, pristine waters, white sand, and natural beauty.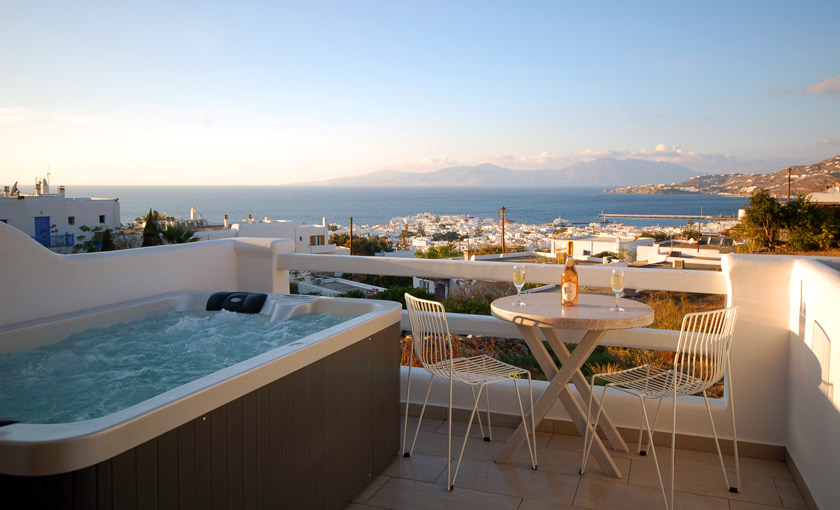 Enjoy your time under the warm Mediterranean sky, rejuvenate your senses in the crystal-clear waters of the Aegean Sea, and savour unique sunset panoramas from the balcony of your stylish Regal View room. After all, life is all about moments – the more authentic the experiences, the more heart-filling!