Diving into the Mykonos Allure – The Best Mykonos Excursions For Your Next Holidays
Mar 05th, 2020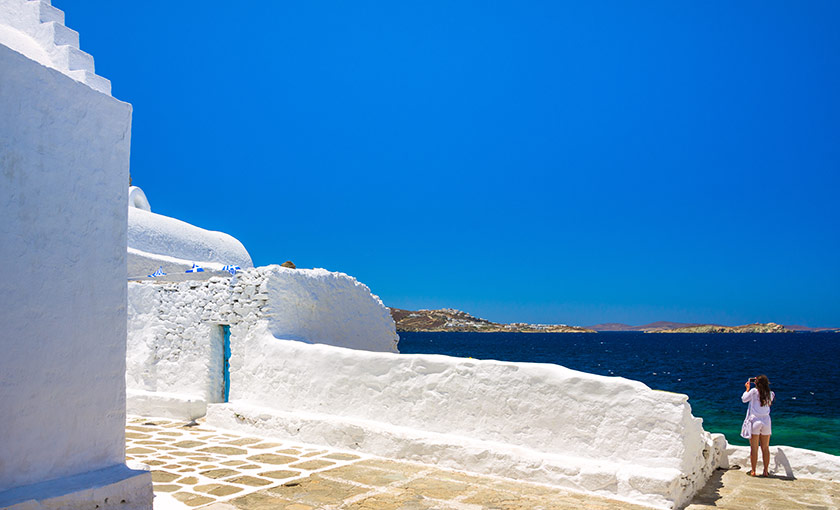 Mykonos is definitely one of the most cosmopolitan and exciting Mediterranean destinations to spend your summer vacations. Besides the vibrant night scene and the lively party atmosphere, Mykonos is also popular for its pristine beaches, picturesque villages, scenic landscapes, idyllic sunsets, charming coves along the coastline, and a long history that goes way back to ancient Greek times.
This means that you can spend your mornings with Mykonos excursions that introduce you to the spellbinding attractions throughout the Island of the Winds while enjoying your evenings drinking and partying till the early morning hours!
Initiating in a Captivating Medieval World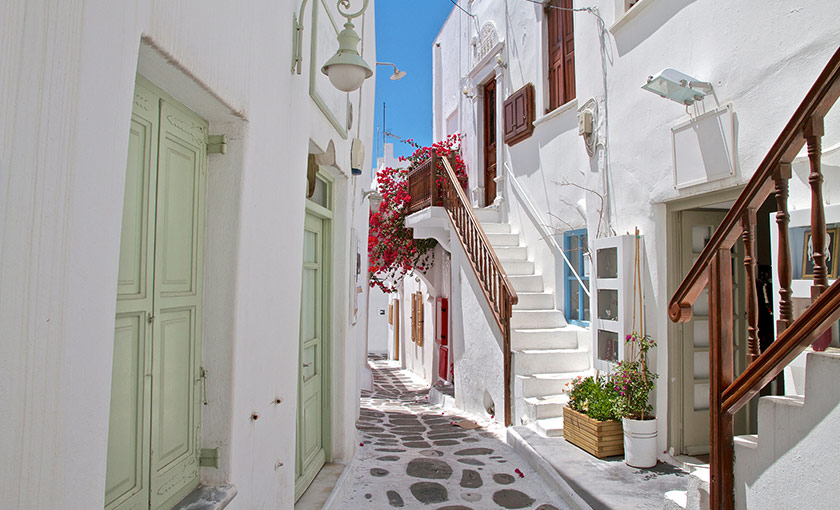 Speaking of Mykonos excursions, there are a lot of options to pamper yourself. For instance, you could join a walking tour that will get you to places in the island capital - the Chora or Mykonos Town - that are not well-known to visitors. Hidden corners and cobbled narrow streets carrying a heavy history full of pirate invasions will all be revealed to you.
Watch myths about ancient Greek gods and goddesses unfold of your eyes as you walk past the secret alleys of the Old Town, and important sights such as the Archaeological Museum and Matogianni area – home to the three 5-metre wells that used to supply Mykonos with water during the 18th century and until the mid-1900s.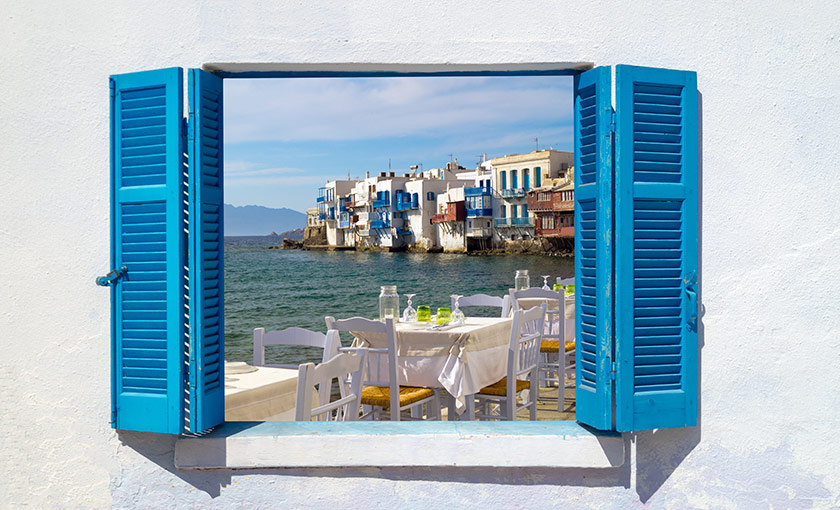 Along the way of most Mykonos excursions that are done on foot, you will come across old, underground wooden stoves treating visitors and locals alike with delicious bakery products, the impressive Castle, and winding paths that lead to the Scarpa region – home to the beautiful Little Venice area.
Do slow your pace here and take some time to admire the bewildering homes-now-turned-into-cafes that literally hang over the sea and dazzle with their bougainvillea-filled balconies, Venetian architecture, and colourful walls. If you happen to be around at sunset, you are in for an extra treat – the views from here are utterly heart-stopping.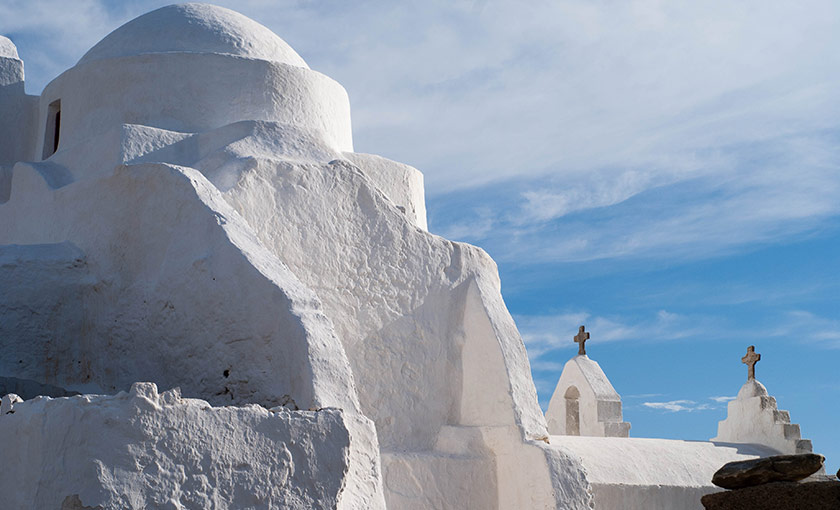 Other Mykonos attractions usually included in Mykonos excursions are the Panagia Paraporgtiani monastery, the Folklore Museum, the chapel of Agios Nikolas at the old port, the infamous Mykonos Windmills, the Armenistis Lighthouse, and the traditional Ano Mera village.
Also expect open-air markets, snacking on local products, such as louza, accompanied by locally produced raki or ouzo (depends on the tour you choose), family-owned farms, and more.
How about a refreshing dive?
Visiting Mykonos island, Greece, is a lacking experience if you don't dip your toes in the golden sand and the rejuvenating waters of the Aegean Sea. You will find plenty of Mykonos excursions that provide tours to the most popular Mykonos Greece beaches exclusively.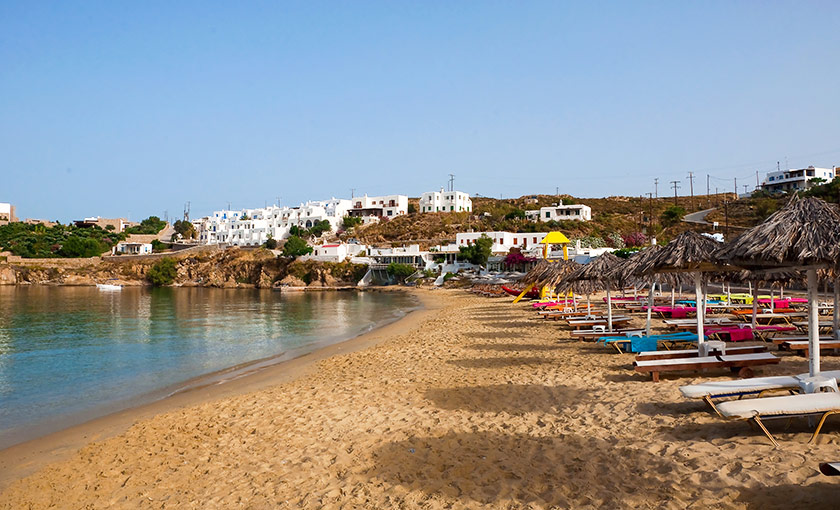 These could include Paradise, Super Paradise, Paranga, and other "beach party meccas" or more secluded shores, such as Ftelia, Agios Sostis, and Tigani. So, whether you seek to relish bliss and privacy or to sunbathe with a cocktail at hand and the beat of the DJs on the background, Mykonos has you covered.
Now, for those that feel they need some help deciding which beaches to visit per their particular requirements, feel free to ask us. Every administrative staff member at the Regal View complexes will be delighted to help you choose the Mykonos excursions that best fit your bill. We are among the very few hotels in Mykonos Town to go above and beyond the call of duty for guests' complete satisfaction.
Have a few hours free?
Able to dedicate a few more hours to explore some more of this magnificent island? Then you could consider joining one of the many day trips from Mykonos organized by local travel agencies.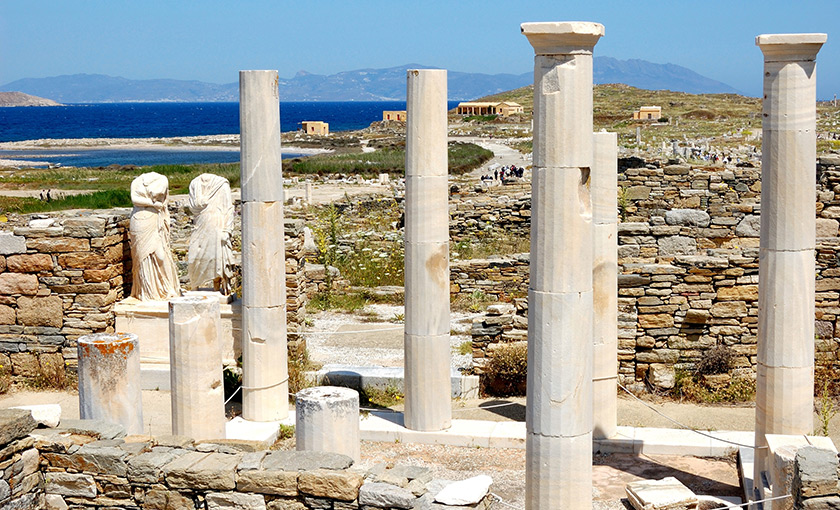 Except for the bustling Mykonos Town and the other in-land charms, you may also take a quick cruise or yacht tour to the nearby archaeological islands of Delos (a UNESCO Heritage Site with incredible energy) and Rhenia- both steeped in myth. Want to take it a bit further? Naxos, Syros, Paros, and Tinos are Cycladic pearls within your reach as well if you have a full day ahead of you.
Want to step up your game?
If you are used to a VIP lifestyle, then do ask for private Mykonos excursions. These could be anything from private helicopter rides and catamaran island hopping to private walking tours for you and your loved one(s) only.
It should be noted that many Mykonos Town hotels, including, of course, Regal View Hotel, provide their guests with services that cater to their specific needs, ranging from airport and port transfers to Mykonos tour suggestions. Just ask the friendly receptionist for assistance and ideas.
The Regal View complex is not accidentally a top-rated Mykonos accommodation option. Our focus and dedication to enabling our delectable clientele to live holiday experiences that often surpass their expectations is found nowhere else on the island.