The Wonders of The Mykonos Architecture – Did you think the Mykonos allure just happened?
Sep 14th, 2020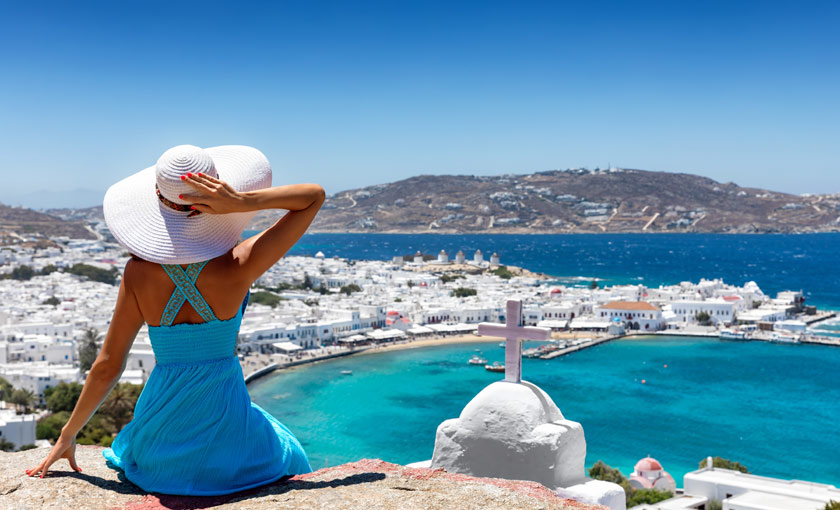 Have you wondered the reason behind building narrow, cobbled paths in Mykonos? Or why have the houses that distinct cubic shape? Or perhaps what is the explanation for keeping all walls whitewashed? All these are part of a beautiful story that is often narrated around campfires. Without a doubt, Mykonos architecture is full of enchanting details – with nothing being left to chance!
Welcome to…
Square, Whitewashed Houses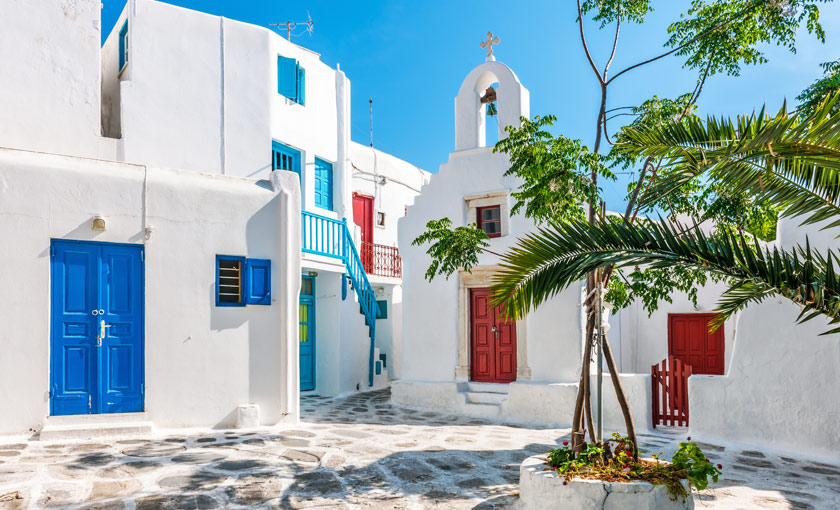 One of the most charming details on the Island of the Winds is the small cubic-shaped households with the whiter-than-white walls and the characteristic blue doors and windows. Back in the old days, the lack of materials to build houses forced the locals to design small dwellings. Given the fierce northern winds that batter the island (aka Meltemi winds), these constructions also had to be somewhat wind-protected. This is why they adopted the shape you now see. So, don't be surprised to see that the best Mykonos hotels in town, like Regal View Rooms, highlight such features to provide maximum comfort to their guests!
As for their orientation, all houses have their backs to the north to enable their residents to enjoy some relaxing time on their front veranda without being whipped by the strong wind. The truth is, as you will soon find out yourself, that Mykonos architecture is far more than making a statement – it offers practical solutions to islanders' living conditions.
When it come to the milky shade on the exteriors, it has been carefully selected as a means to deter the steaming temperatures from turning the residence into an oven (white absorbs heat). That aside, white shades tend to allow the eye to see shapes as a union. So, you have a sense of uniformity when overlooking a Mykonos village or the island capital, Chora Mykonos, from a distance.
Unique Rural Allure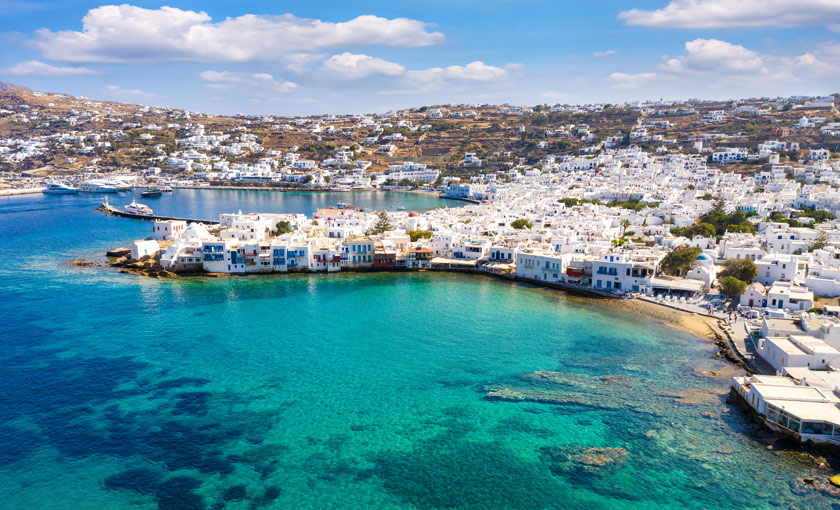 Admittedly, Mykonos architecture is impressive enough to leave visitors in awe, especially when noticing the island's interesting diversity. For instance, rural Mykonos showcases plain cottages with shaded patios and rooms big enough to house up to two people. Situated in huge fields and featuring wells, livestock pens, and even small chapels, these farmhouses seem to have a strong command of space and how to best use it.
You may wonder why islanders chose to build such small houses when they owned massive lands that could accommodate larger buildings. The truth is that people back then appreciated the simple things in life and were focused on enjoying Mother Nature's gifts rather than demonstrate their riches through building mansions. Nevertheless, we cannot claim that farmhouses are neglected or lacking the charms of Mykonos architecture. In fact, most of the Mykonos farmhouses are stand-alone attractions worth exploring.
Mesmerising Chapels and Windmills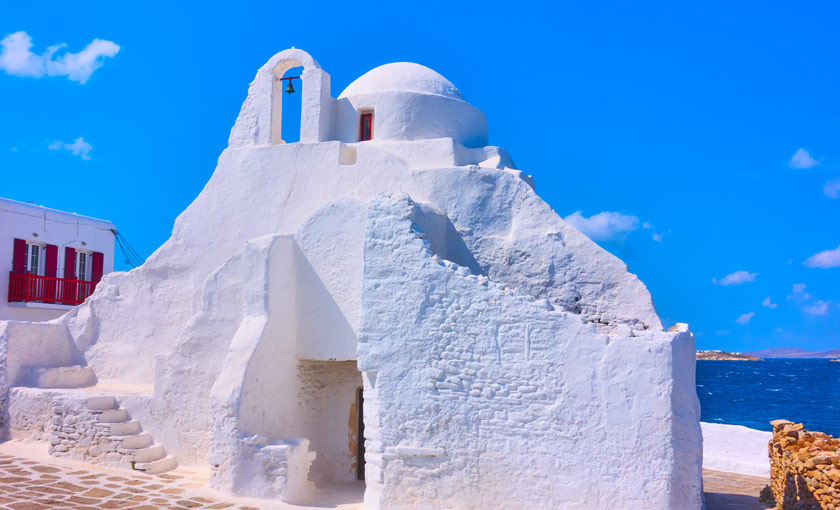 Speaking of Mykonos attractions, nobody can deny that churches such as Paraportiani are significant monuments with unique architecture. Like most Mykonos churches, it, too, features an artistic facade and a small arched bell tower painted in the distinguishing blue and white colours.
Note that many chapels are built next to Mykonos fortification dating back to the Middle Ages when the islanders built castles to protect themselves from pirates and thieves. For that reason, Mykonos architecture found interesting ways to adapt to the needs of that time.
As for the once-powerful symbols of economic prosperity, the windmills, they now stand like proud beacons, telling stories of the times when Mykonos was a thriving merchant centre. Overlooking some of the most beautiful beaches in Mykonos, the windmills and churches also offer unsurpassable views of the Aegean Sea.
Eco-friendliness taken to the next level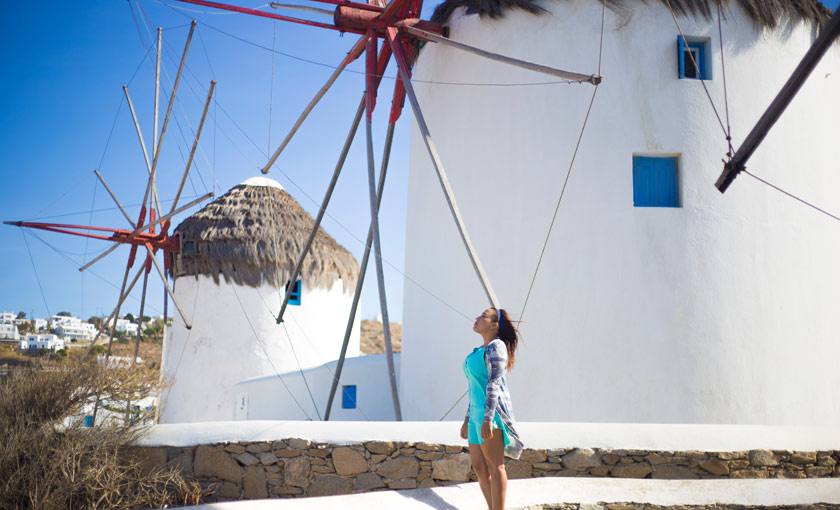 Mykonos architecture incorporates a wealth of principles, sustainability and eco-friendliness included. This is why all roofs are insulated using sand and seaweed, with small openings to dispose of thermal loads and humidity appropriately. And, to achieve cooling, the dwellings come with things like stone walls and exterior areas that provide shade due to dense foliage.
Combining the traditional with modern
In later years, we see an increasing number of properties that blend with the natural surrounding perfectly, although they stray from the typical homes of the Mykonos villages. Built from rock and other natural materials, hillside villas, mansions, and luxury hotels, add an inviting note to the overall landscape without disturbing or overpowering the appeal of Cycladic architecture.
Where to Stay in Mykonos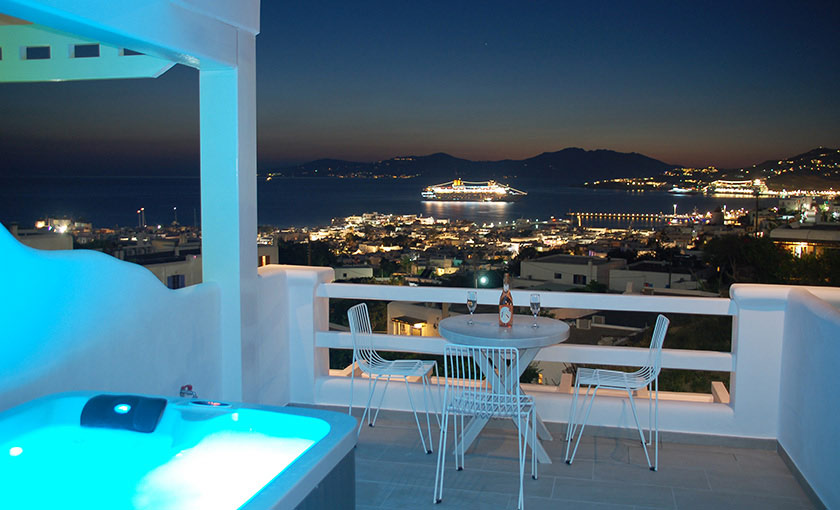 Mykonos accommodation options are as diverse as the people that live in and visit the island, with Regal View Rooms being on top of every traveller's list. Occupying a privileged location right in the beating heart of Mykonos, they are a point of reference for all guests needing privacy and, at the same time, close proximity to major Mykonos attractions.
With well-appointed Mykonos rooms to satisfy even the most discerning holidaymaker, Regal View pampers its customers with a wealth of top-rated services. Feel free to discover them all by yourself!