Most heart-stopping Mykonos Beaches – Where Crystalline Waters Meet the Azure of the Mediterranean Sky
Oct 31st, 2019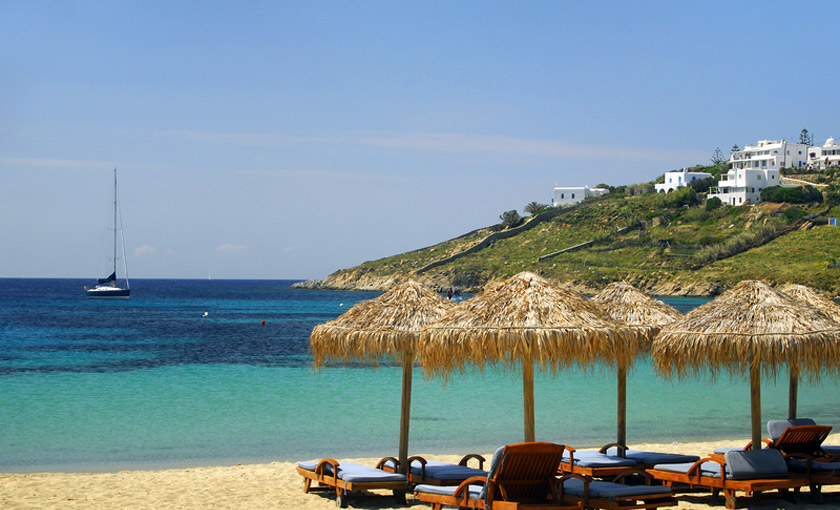 In continuation of our previous article Exploring the Best Mykonos Beaches – A Shore for Every Demand!, we give you an exciting second part with the Mykonos beaches that offer the most magnificent views of the Aegean Sea and welcome visitors to sandy or pebbled shores and crystal-clear waters. Organised or not, cosmopolitan or more secluded, homes to some of the most legendary Mykonos beach bars or renowned for their private coves, these are the best beaches in Mykonos to party, relax, recharge your batteries, and have a great time – often combining all the above under the same umbrella!
1. Super Paradise Beach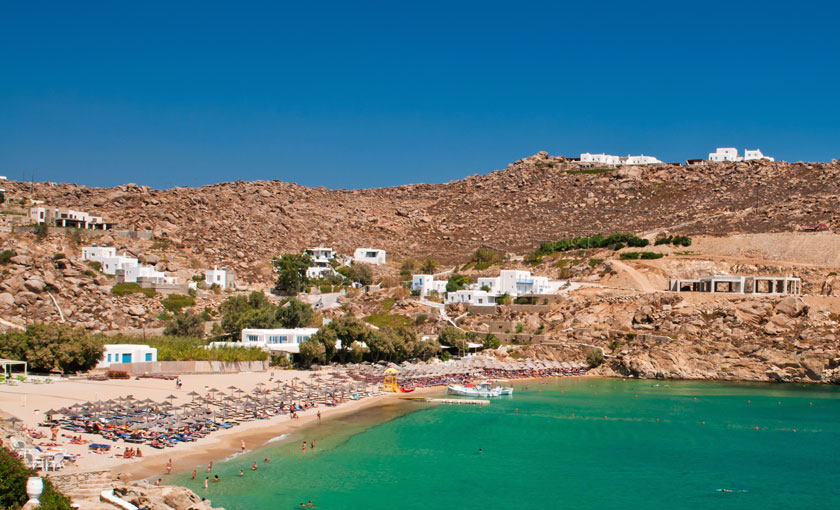 This is certainly one busy bee and the most alternative beach of Mykonos island. A large, sandy, mostly gay shore with cobalt waters that deepen abruptly which has gradually transformed into a favourite spot for celebs and A-lists. Here, you will find from nudists and party-seeking youngsters to fashionable socialites and TV stars. The coves and rocky paths at Super Paradise also give visitors the chance for more privacy while those wishing to rub shoulders with Hollywood stars prefer the sunbeds, parasols and lively, multi-leveled Super Paradise bar of the main beach.
How to get there: You may catch a private bus from the old port station at the Chora or reach the shore by motorbike, car or water taxi from Platis Gialos beach.
2. Agrari Beach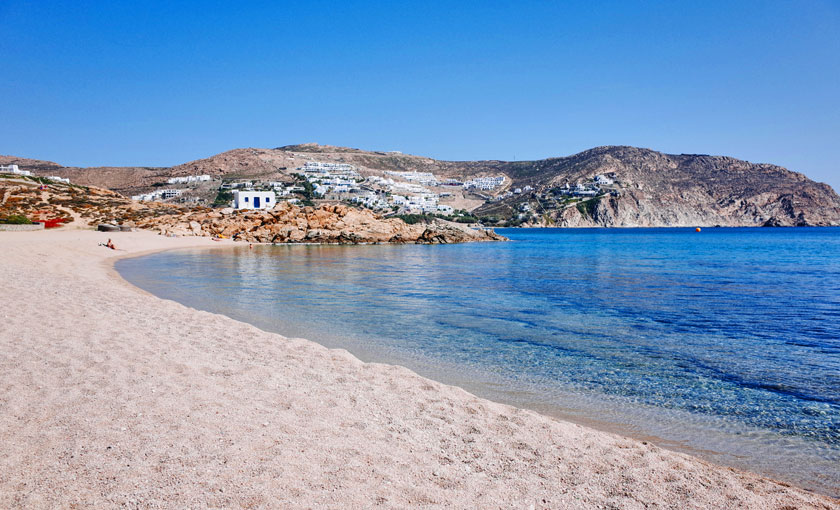 One of the quieter Mykonos beaches some 8km in the south of the Chora with a profound sense of relaxation and tranquility. Compared to the other siblings around the island, Agrari beach is not as large. The golden sand (with some pebbles here and there) and the deep sea allow for endless hours of swimming. Although not a particularly family-friendly beach due to the deep waters, it is a perfect option for people into water sports (not for windsurf lovers, though, as the beach is quite protected from the northern, meltemi winds). As for things to do here, you may not find the energetic vibes of the Mykonos beach bars of other more touristy shores, but you will have your chance for some fun and swinging to the rhythms of the music! And, if you see yourself urging to live the Mykonos allure, the bustling Chora is a breath away. Among the most exclusive hotels in Mykonos Town is Regal View Rooms – ready to cater to your every requirement, no matter how strange or quirky!
How to get there: It is not connected with Mykonos Town by public bus so you will have to get there by car, taxi or motorbike. Also, water taxis from the beach of Platis Gialos.
3. Kalo Livadi Beach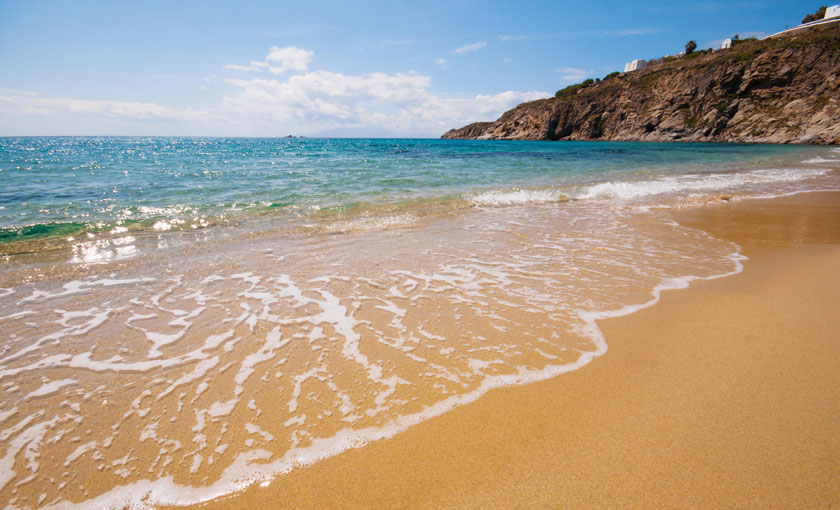 One of the biggest Mykonos beaches with sugary sand around 10km from Mykonos Town. Kalo Livadi beach is much less crowded than its southern cousins (see Super Paradise and Paradise beaches) but is considered a trending spot many celebs are particularly fond of lately. Here, you will find a nice mixture of different crowds, from partygoers hitting the local Mykonos beach bars to families enjoying the sun. The shallow, crystal waters and the calm sea make it a great option for families with kids. Now, depending on what type of vacation you are after, you may choose the fancy section and rent your umbrella and beach bed or head to the less organised parts and simply lay your towel on the sand. Kalo Livadi beach facilitates a few water sports, changing rooms, and restaurants.
How to get there: Head to the old port bus station and get on the public bus to Kalo Livadi. Alternatively, you may use a motorbike – a car drive might be somewhat tedious, though, due to the bumpy road.
4. Vathia Lagada Beach
A secluded, non-organized beach, ideal for people loving raw, unspoiled nature. Admittedly, one of the most difficult-to-reach Mykonos beaches due to its rocky landscape and topography so we suggest you get a 4X4 vehicle to get there. Adventure seekers will find the ride to this small beach quite exciting while the views when they get there will definitely be more than rewarding. It welcomes tourists with crystalline waters and all the peace and quiet you can afford! Not a recommended option for families, though, given its morphology.
How to get there: Only by renting a Jeep, 4X4 car or bike.
5. Fokos Beach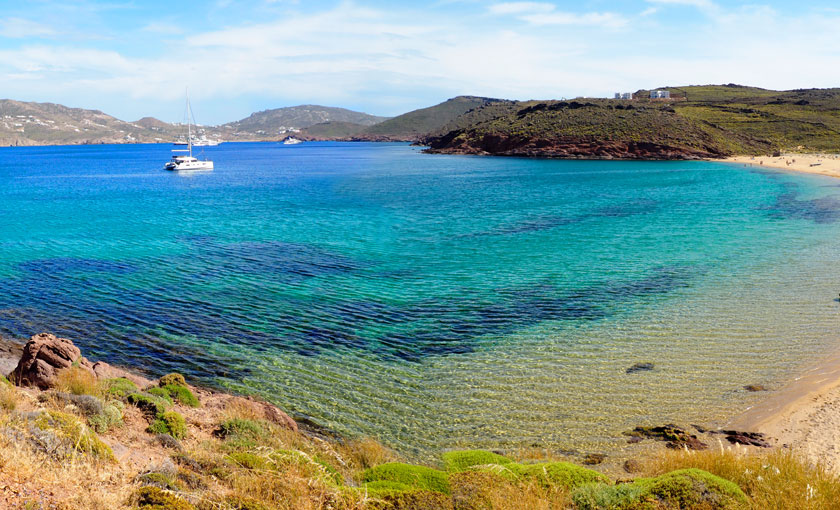 One of the most remote Mykonos beaches located on the northern side of the island. This calm and quite secluded cove is where you will find serenity even amidst the high season. There are no tourist facilities here, such as parasols and sunbeds, and there is only a charming taverna to savour some delicious local cuisine and fresh seafood. However, the sandy shore of Fokos remains an excellent choice among naturists.
How to get there: Only via private means of transportation.
Where to Stay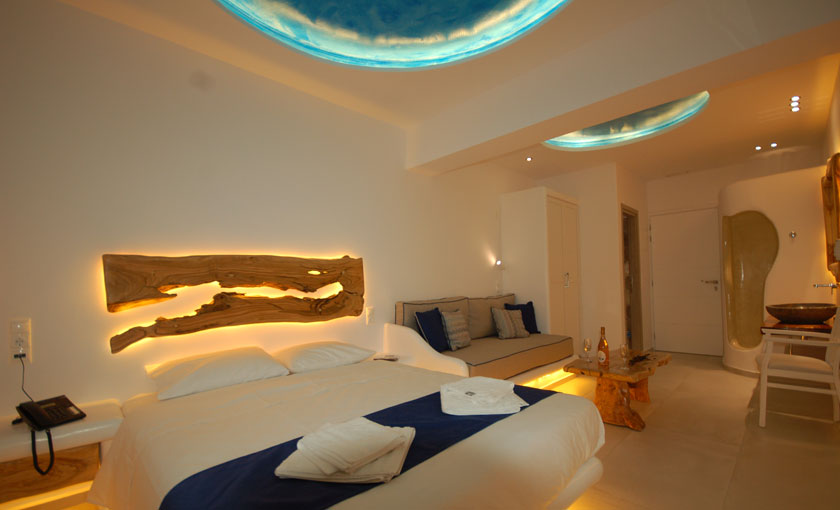 You will find plenty of Mykonos accommodation options, including the high-end Regal View Rooms in Mykonos Town. Choosing a luxury room in the beating heart of the island gives you utmost convenience as you have easy access to everything on the island, from the most dazzling Mykonos beaches, beach bars, restaurants, and sights to the vibrant party scene Mykonos is legendary for!
Regal View Rooms has been repeatedly voted as one of the most guest-centric Mykonos hotels in town, which reflects our focus on providing not only stellar royal services and facilities but also the authentic experiences that speak of the Greek tradition and Cycladic allure with the most vibrant colours.