Mykonos Boat Tours For Authentic Mykonos Experiences
Jun 07th, 2021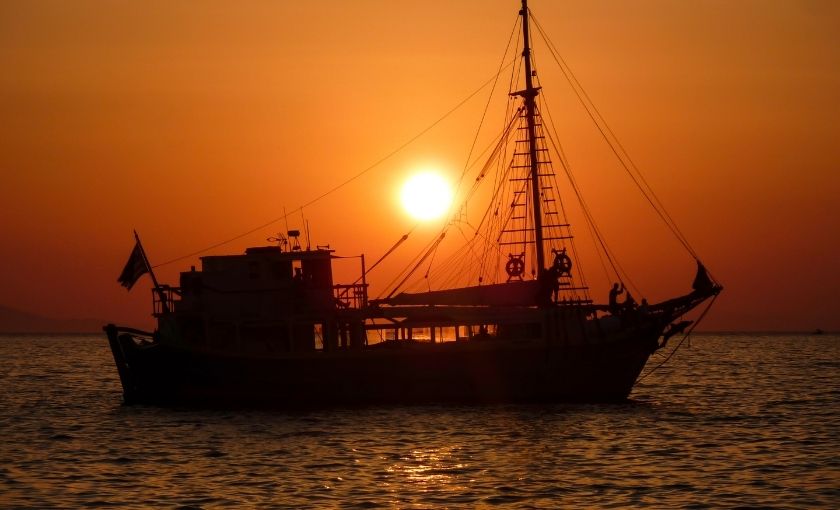 One of the best ways to enjoy holiday-making on a Greek island like Mykonos is to explore its beauties from the sea. This is why Mykonos boat tours are so popular among visitors who want the whole Mykonos experience and an all-around taste of the cosmopolitan island. As with everything else in Mykonos, there is an abundance when it comes to the available options.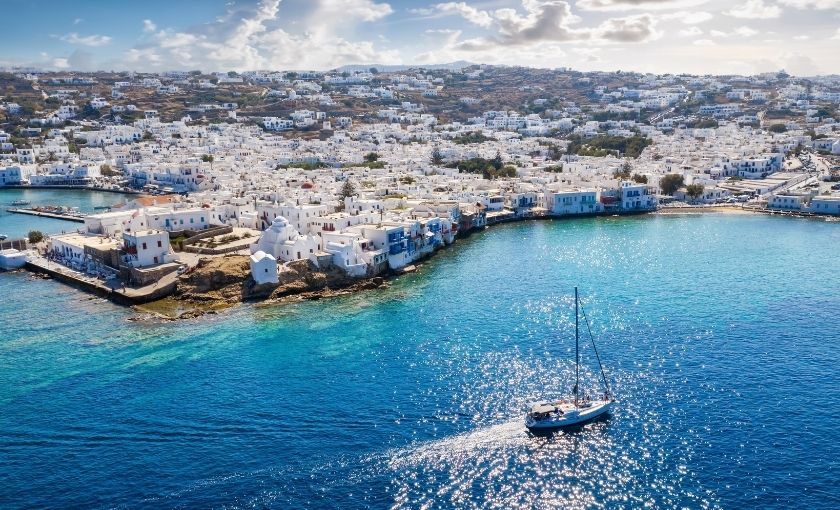 Here are some ideas to give you an idea of what is usually on offer. However, feel free to customise the itinerary and make it a tour perfectly suited to your particular needs and desires.
Setting sails just before sunset
This is an absolutely magnificent tour that will enable you to have a personal opinion about the infamous sunset views seen from a Cyclades island. Typically, sunset Mykonos boat tours are relatively short (usually 2-4 hours) as they embark late in the afternoon just on time to catch the last rays of the sun from the water before it slips behind the horizon.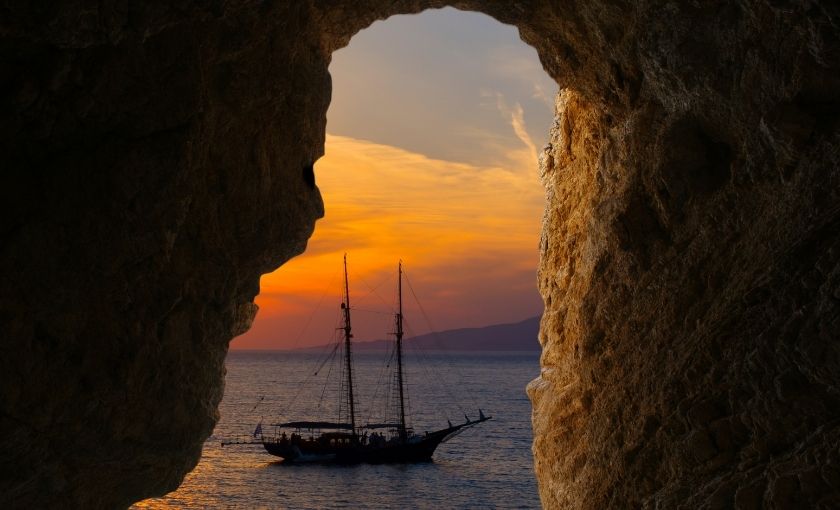 It is one of the most relaxing cruises that may even include drinks (i.e., sparkling wine or ouzo), local mezedes (appetizers), and savoury snacks.
Tip: You could combine it with an island-hopping tour or another alternative schedule.
Seeing Mykonos' charms from the sea
Although enjoying the views and comforts of the Regal View Mykonos rooms is an incredibly pampering experience all by itself, you would probably want to see some sights! In this case, you can either stroll through the scenic cobblestone alleys of the island capital or visit iconic landmarks with a cruiser, yacht, or catamaran.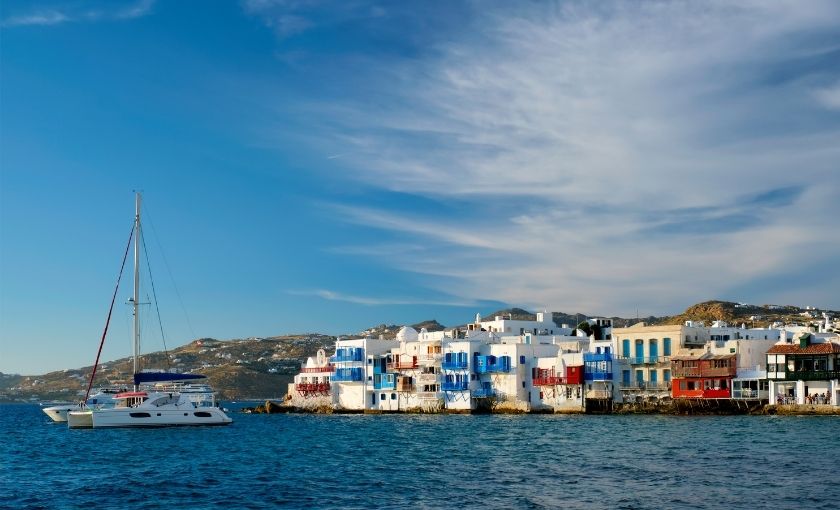 A short boat tour to Little Venice, a popular Mykonos attraction, is one of the most preferred boat tours in Mykonos. Such an adventure gives you the chance to admire the picturesque Mykonos Little Venice from the Aegean Sea while also gazing at spectacular vistas of the distant coastline. So, instead of sailing the shimmering Mediterranean Sea, you drop anchor in the open archipelago, close enough to have great views of the shoreline and far enough to watch the sinking sun with ultimate privacy.
A handy alternative to boat rides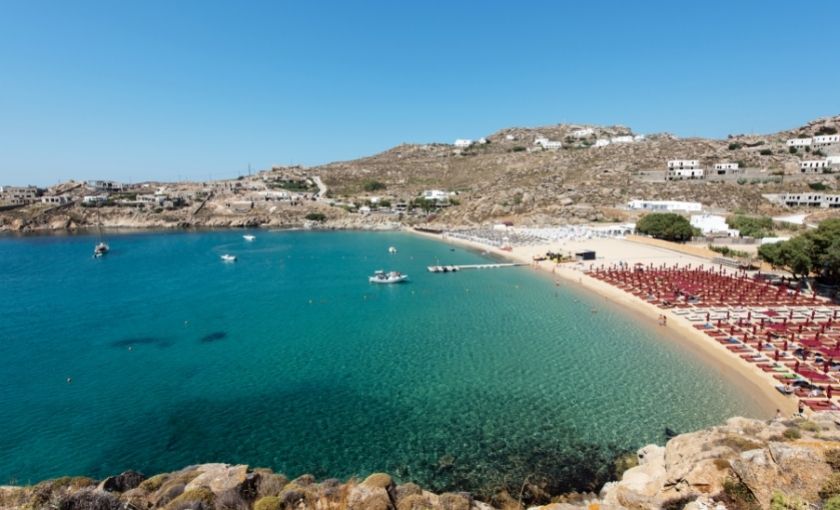 You will find plenty of Mykonos day trips whose itinerary includes stops at popular local attractions that are difficult to reach by bus or car. Or there could be tours that provide more convenience than any other offered means. For example, instead of taking a taxi boat from the old Mykonos port to head to, say, Paradise Beach, you can opt for a roundtrip boat transfer and board a modern yacht or boat.
That way, you don't have to wake up early to catch a taxi boat, and you also skip the line service to get a ticket. You simply enjoy your coffee on board and soak up fantastic seascapes and views of the Mykonos coastline for 40 minutes or so. Then, you have plenty of time to swim, sunbathe, and snorkel (even party and/or have cocktails or lunch) at the famous beach and return to the Mykonos port in the afternoon to plan your Chora Mykonos, evening escapades.
Cruising around the shored of the southern coast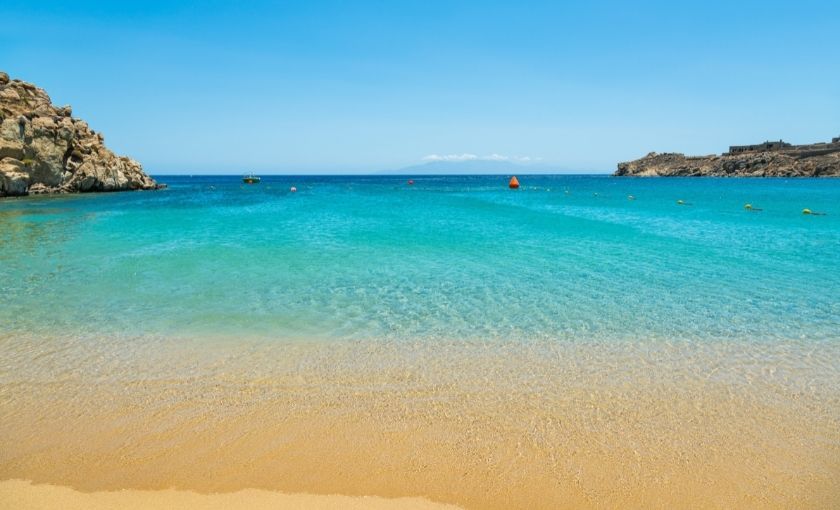 Hop on a luxury yacht and visit beaches like Paradise, Super Paradise, Elia, Psarou, Paraga, Ornos, and Platis Gialos. These Mykonos boat tours also spoil with things like BBQ onboard and fresh fruits or snacks. Depending on the tour you choose, you may enjoy a meal prepared by the onboard chef.
In any case, expect a fun day of sailing to popular (crowded and less crowded) beaches, where you can dive in their crystalline waters, sunbathe on the yacht's wide deck with a glass of wine at hand, and/or swim to the shore if you want to grab some Mykonos vibes. You might even be taken to isolated coves and remote sugary beaches if we are talking about one of the private Mykonos boat tours on offer and have the place all for yourself.
Sailing to Delos and Rhenia islands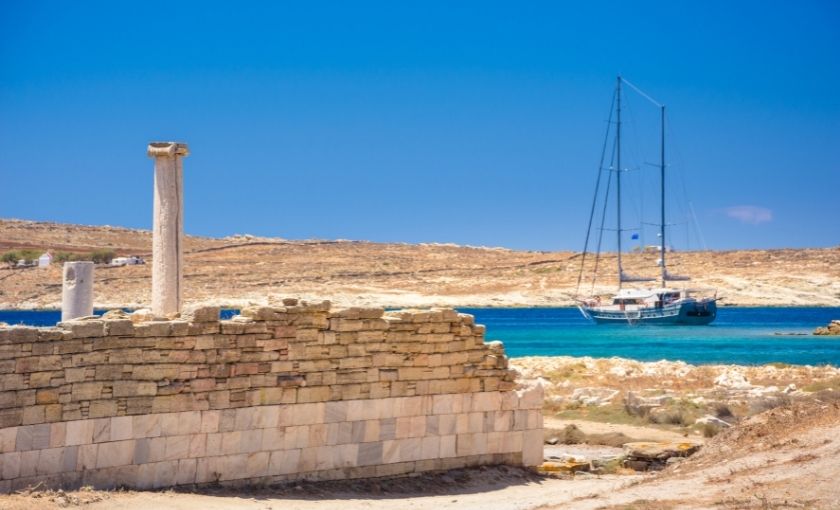 Mykonos boat tours that explore archaeological sites are much preferred not only by history buffs but also lovers of nature. You see, an excursion to Delos island (the assumed birthplace of Apollo) is a remarkable experience as you get to see centuries-old ruins of temples, sanctuaries, palaces, and worship places and be amidst an enchanting landscape. If you also know the story of Delos and how powerful a spiritual centre it once was, chances are you will be mesmerised. And, rest assured, you will definitely understand why Delos was designated a UNESCO World Heritage Site in 1990!
While here, you can experience ancient history with a knowledgeable guide and have private beach time to snorkel, swim, and sunbathe to secluded Rhenia coves and the sandy beaches featured by these two uninhabited islets. Or you could hike to Mount Kythnos and reward yourself with spectacular views of the azure Aegean Sea. Light snacks, Greek salad, fruits, soft drinks, or even lunch may be included in these Mykonos boat tours.
What is included in boat tours
It depends on what you opt for. It is just like choosing your Mykonos accommodation or one of Regal View rooms! Do you need privacy? Food onboard? A full crew? Complimentary pickup shuttle service? Budget-friendly options?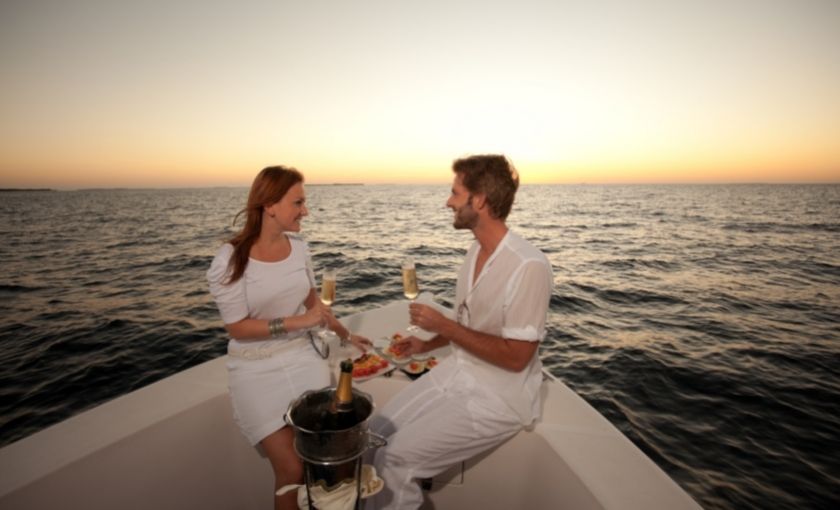 Some boat tours provide free Wi-Fi onboard and things like snorkeling gear, hotel transfers, spirits, skipper and crew services, towels, refreshments, and/or BBQ meals. Most also offer soft music entertainment and all safety equipment. Do discuss these details, so you know what you get.
The perfect closure for a dreamy day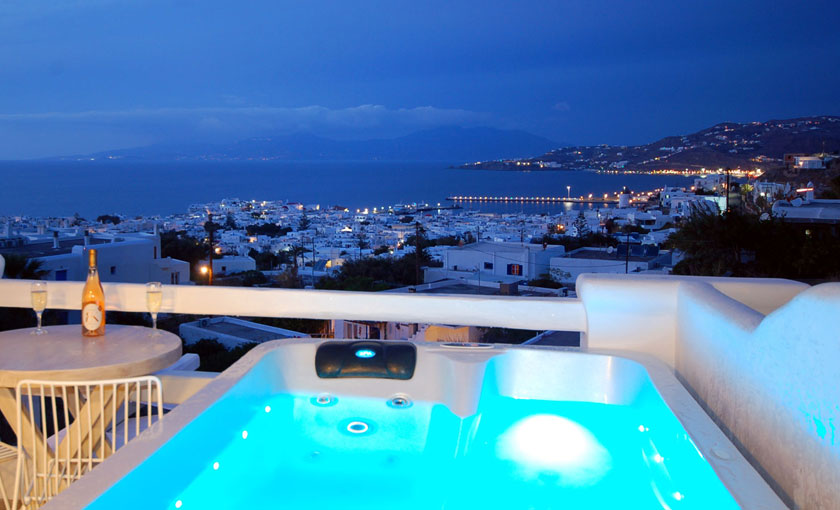 Whether you are visiting Mykonos with your friends, family, or partner (even solo – you will make new friends the moment you step foot on the island!), nothing compensates more after such an exciting day than indulging in a revitalizing Jacuzzi at the comfort of your room. Overlooking the hypnotising Mykonos Town from the most best Mykonos hotels in town like Regal View is ideal for closing the day with soul-pleasing memories.